This is my "new favorite" way to use lamb (or mutton!) shoulder. "Instant Pot" doesn't mean "fast to cook"; the advantages of using an Instant Pot are that (a) all of the cooking can happen in a single pot (reducing mess); (b) your kitchen will stay cooler than would be the case if you were cooking on your stovetop on a hot day; and (c) the results are more predictable (requiring less monitoring/testing to assess doneness). Don't skip the dried mushrooms, which add "umami" (depth to the flavor), or the parsnip, which adds a touch of sweetness. Many ingredients in this recipe are available in "ready to use" form, as this recipe was originally developed in response to the Maryland Sheep and Wool Festival's annual Lamb Cookoff, in which this condition is a requirement. Feel free to substitute fresh peas and carrots and herbs and freshly peeled pearl onions if you wish. As with most stews, it's best prepared the day before you plan to eat it – the flavors blend together that way. Also, this stew makes a great Lamb Pot Pie if you transfer the stew to a cooking dish and cover it with puff pastry and bake in the oven right before serving. Make your own or do as I do, and buy frozen puff pastry.
Total Time: 2-3 hours, including time to soak dried mushrooms
Active cooking time: 10 minutes + 2 minutes, plus time to come to pressure and release pressure and thicken the juices at the end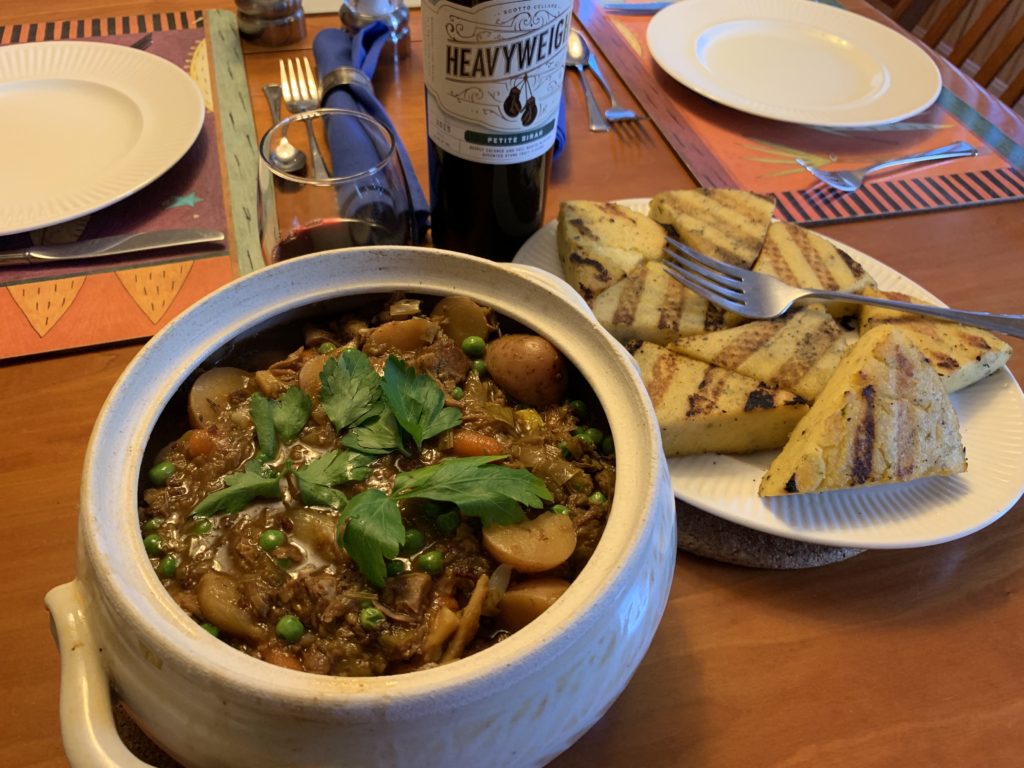 Ingredients:
½ oz dried porcini mushrooms
¾ C boiling water
4 slices bacon, finely chopped
2 T all-purpose flour
½ t kosher salt
¼ t freshly-ground black pepper
1 ½ lb lamb shoulder, cut in 1 ½" cubes, trimmed of excess fat
1 small onion, diced
1 t chopped garlic (I use jar garlic)
2 t tomato paste (I use tomato paste from a tube)
½ t prepared Dijon mustard
2 C stock (lamb or chicken)
1 t thyme leaves (dried)
1 t rosemary leaves (dried)
1 bay leaf
2 C leeks (approx. 1 leek); white and light green portions, sliced
½ lb baby potatoes, halved
½ lb baby carrots (approx. 1 ½ C)
1 parsnip, peeled and cut into the size of baby carrots
7 oz (1/2 bag) frozen pearl onions
½ bag frozen peas (approx. 1 C)
Directions:
At least 2-3 hours before you want the stew to be done, pour boiling water (3/4 C) over the dried mushrooms; allow to soak for at least 45 minutes.
Set the Instant Pot to Sauté (high), and when it says "Hot", cook the chopped bacon until very crisp, approx. 7 minutes, stirring occasionally. Remove bacon with slotted spoon and reserve; remove all but a few tablespoons full of fat in the Instant Pot. While bacon is browning, mix flour, salt and pepper in a small bowl. Place lamb in a larger bowl and sprinkle with flour/salt/pepper mixture, stirring to coat each piece. Transfer lamb meat (in two batches) to the Instant Pot (leaving space between pieces) and sauté on High until well browned on all sides, approximately 9 minutes per batch. Transfer browned lamb to a bowl. Chop onion while lamb is browning; also drain the dried mushrooms, and reserve the liquid. Remove mushrooms from strainer and reserve.
On removing lamb: turn Instant Pot off. Stir chopped onion into bacon fat in Instant Pot and sauté (using residual heat) 2 minutes, stirring occasionally. After 2 minutes, turn Instant Pot on to Sauté (medium), and continue cooking, stirring occasionally, an additional 3 minutes, until translucent.
Add 1 t jar garlic and cook an additional 1 minute, stirring. Add tomato paste (2 t) and mustard (1/2 t) to center of Instant Pot and cook for one minute, stirring constantly, until lightly caramelized. Gradually add stock (2 C) and strained mushroom liquid, and stir well to scrape up any browned bits, taking care to leave no browned areas on the bottom of the Instant Pot. Add dried thyme (1 t), dried rosemary (1 t), and bay leaf, and return the lamb cubes to the Instant Pot. Hit "Cancel" to stop the sauté program.
Place lid on Instant Pot, and cook on stew/meat setting ("High") for 10 minutes. While meat is stewing, wash and slice the leeks, chop the reconstituted dried mushrooms, wash and halve the baby potatoes, and peel and cut the parsnip into pieces similar in size to the baby carrots. After 10 minutes of cooking, release the pressure. Add the leeks, potatoes, carrots, parsnip, frozen pearl onions, and chopped mushrooms to the Instant Pot. Cook for 2 minutes (Pressure Cook, "High"), at the end of which you should release the pressure manually. Hit "Cancel" to stop the program.
Transfer the contents of the Instant Pot to a colander, reserving the liquid. Turn the Instant Pot to "Sauté" (High) mode; return the liquid to the Instant Pot and reduce until the sauce is thick, stirring occasionally. (I like the sauce a little thicker if making a Lamb Pot Pie than for Lamb Stew). When sauce is at the desired level of thickness, return the meat and vegetables to the pot and stir to mix. Add the frozen peas and the reserved rendered bacon; cook (stirring occasionally) until the peas are warm, just for one or two minutes.
Serve with crusty bread or grilled polenta, a spinach salad, and a hearty red wine (such as an Old Vine Zinfandel).