UPDATE: We are, unfortunately, sold out of our lamb fleeces. We do have some adult ewe fleeces for sale that are not of premium quality. Expect to invest more effort in cleaning VM and in washing mud. These are available, unskirted, for $20 per fleece.
Learn More About Perendale Sheep
Information about Perendale fleeces is available from the North American Perendale Association here and from our farm (Lucky Lane Farm) here.
This year's sale
We normally save our very best fleeces each year to sell at local fiber festivals, such as the Maryland Sheep and Wool Festival (MSWF) and the Shenandoah Valley Fiber Festival. Our fleeces have been selling out at MSWF for the last several years, suggesting they find favor with fiber artists. Because the global pandemic is forcing cancellation of many such venues, this year (as with last year) we are offering our fleeces on our website. Below you will find links to photos of individual fleeces we have available.
Ups and Downs of the Pandemic
We wish we could hold our prices to those we charged last year. Unfortunately, Covid hit our fleece operation hard. Our shearer had to reschedule owing to her having contracted Covid (fortunately she made a complete recovery!), so we were unable to shear before lambing. This means that most of our ewe fleeces are (literally) trash; once lamb feet trample mud and grind hay and bedding into them, believe us, you don't even want to look at them.
Please note: we did save out a half-dozen or so of the better ewe fleeces that our shearer insisted were too nice to throw away; at present, these are available, unskirted, for farm pickup at $20/fleece. Contact us at [email protected] for more information.
Sadly, apart from these few ewe fleeces, the fleeces available in 2021 are pretty much limited to last year's ewe lambs. We are hoping to break even on our fleeces this year (fleece sales minus cost of shearing the flock), but this may be unduly optimistic. We regret that we will be increasing prices by $2/lb over our 2019 and 2020 asking prices. On the plus side, the yearling fleeces this year are the nicest they've ever been – almost completely free of VM, as the lambs grazed our hayfield all winter, with a full year's growth (staple lengths up to 7″).
Important addendum: We have discovered that some (most?) of our lamb fleeces have weak tips. In at least some cases it only affects the locks along the top of the back. This weakness (likely the result of sunburn) only affects the very tips of the locks, which many handspinners trim off anyway. We are unable to trim these ourselves, and it only affects a minuscule fraction of the total weight of the fleece (see example lock in photo below). In recognition of any inconvenience this may represent, we are discounting all of our lamb fleeces by 10%.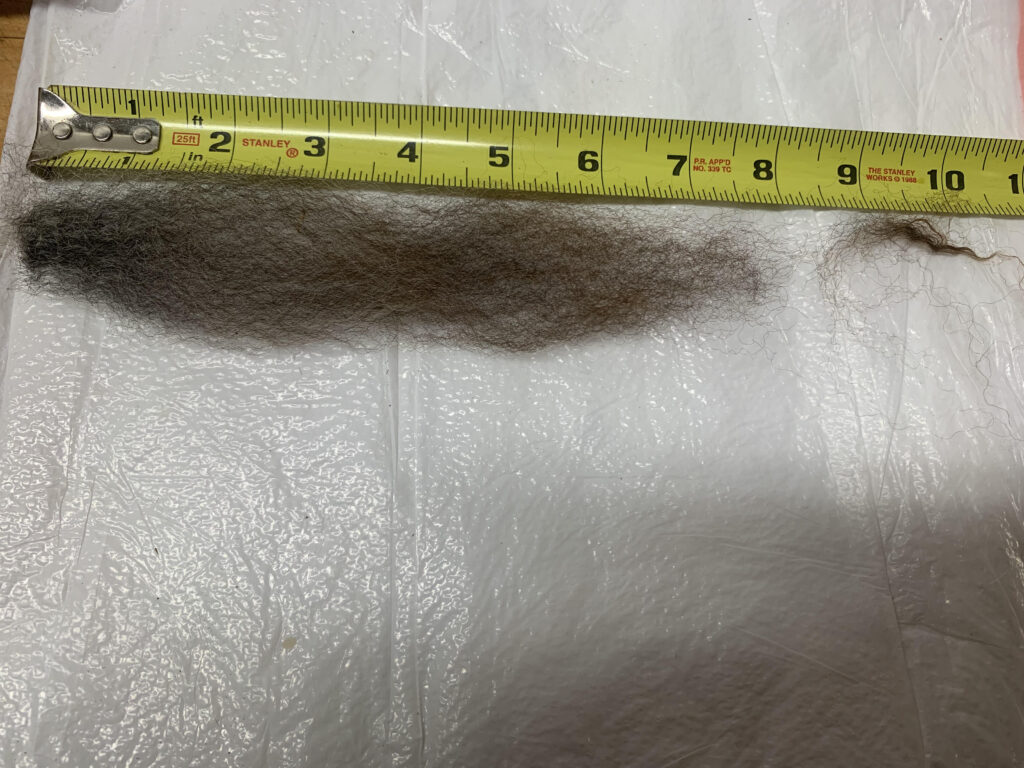 We will donate 10% of the purchase price of any fleece sold on May 1 and 2 (the weekend when MSWF would ordinarily be held) to the Maryland Sheep Breeder's Association (which puts on the MSWF) to help defray some of its expenses. If you opt to pay more than our stated purchase price, that extra money will also be donated to the Maryland Sheep Breeder's Association. (Disclosure: I serve on their Board).
Lucky Lane Farm Perendale Fleeces
Please note that our sheep are not coated. Nevertheless, you will find most of them relatively (though never 100% entirely) free of VM, as the little hay the lambs received this winter was fed on the ground. What VM exists is mostly bedding and should comb out quite easily.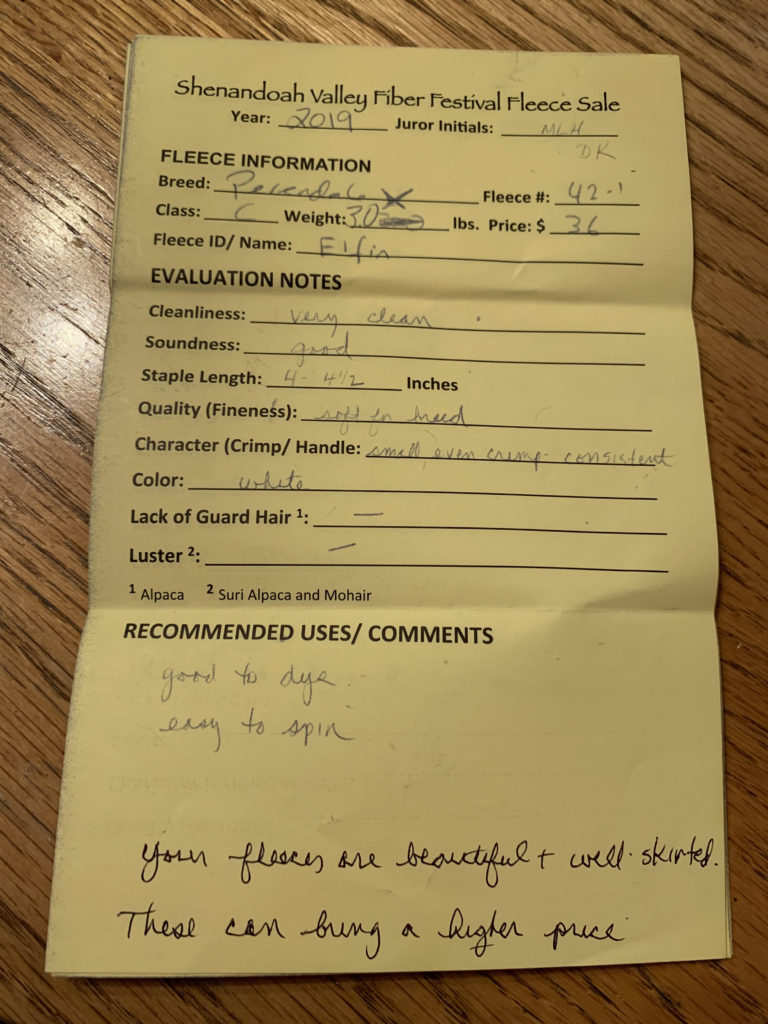 All lamb fleeces were professionally shorn by Emily Chamelin on March 29, 2021. (Ewe fleeces were shorn on April 27, 2021). We have been busy skirting them since, and have submitted samples of the lamb fleeces to the Montana Wool Lab for micron testing. Results are provided along with a description of each fleece.
Click on the link for each fleece ID to see several larger photos of each fleece. Note we only sell whole fleeces.
We skirt out any cotted regions, regions where the fleece is shorter than 3″ (including any "second cuts" we find), "britchy" regions, and regions with excessive VM or mud. (Any poop was skirted out at shearing). We test any parts that appear to have cotted tips; if we can easily separate tips with our fingers, and the majority of the staple does not appear cotted, we do not skirt these portions out.
2021 Lamb Fleeces Available: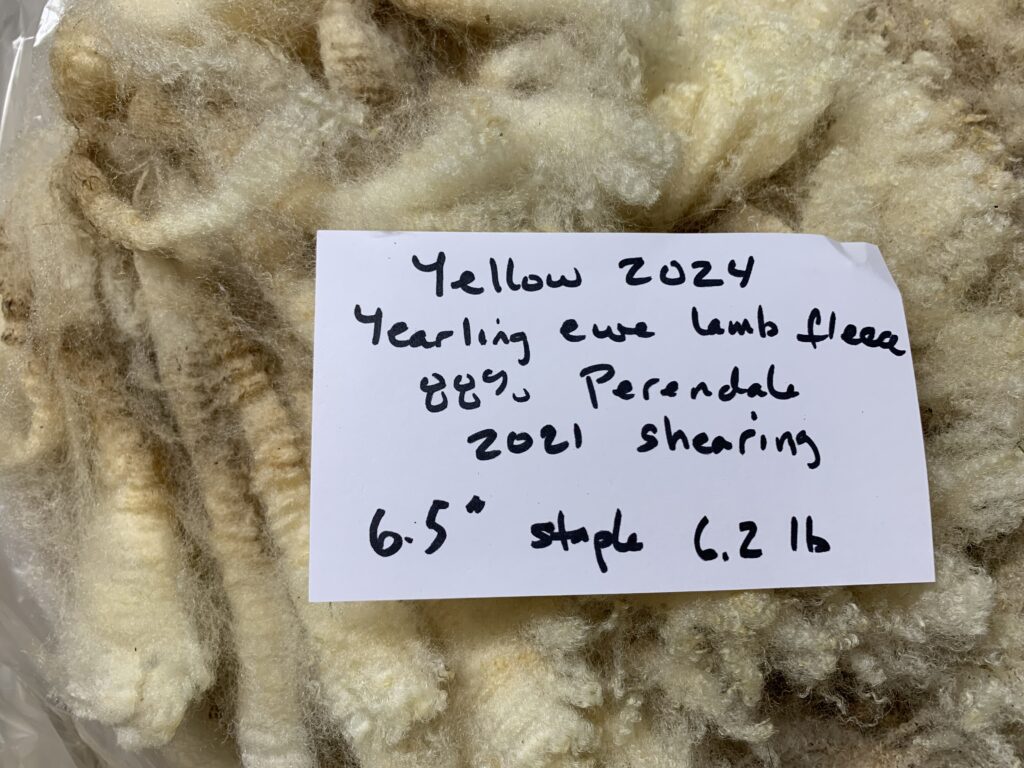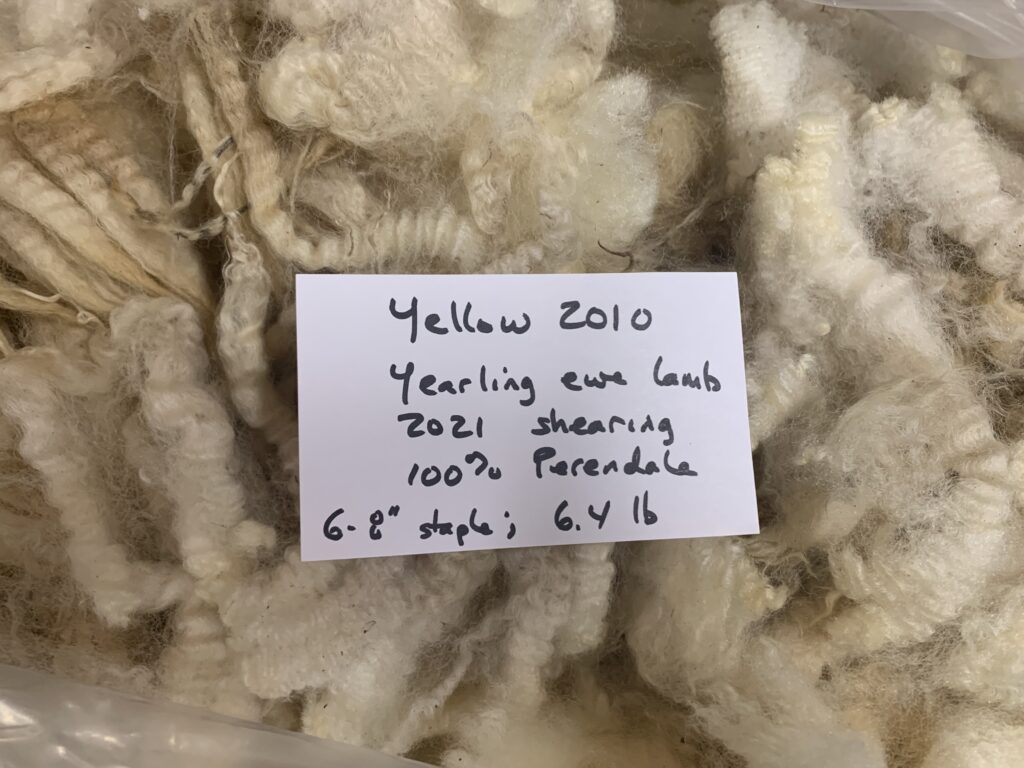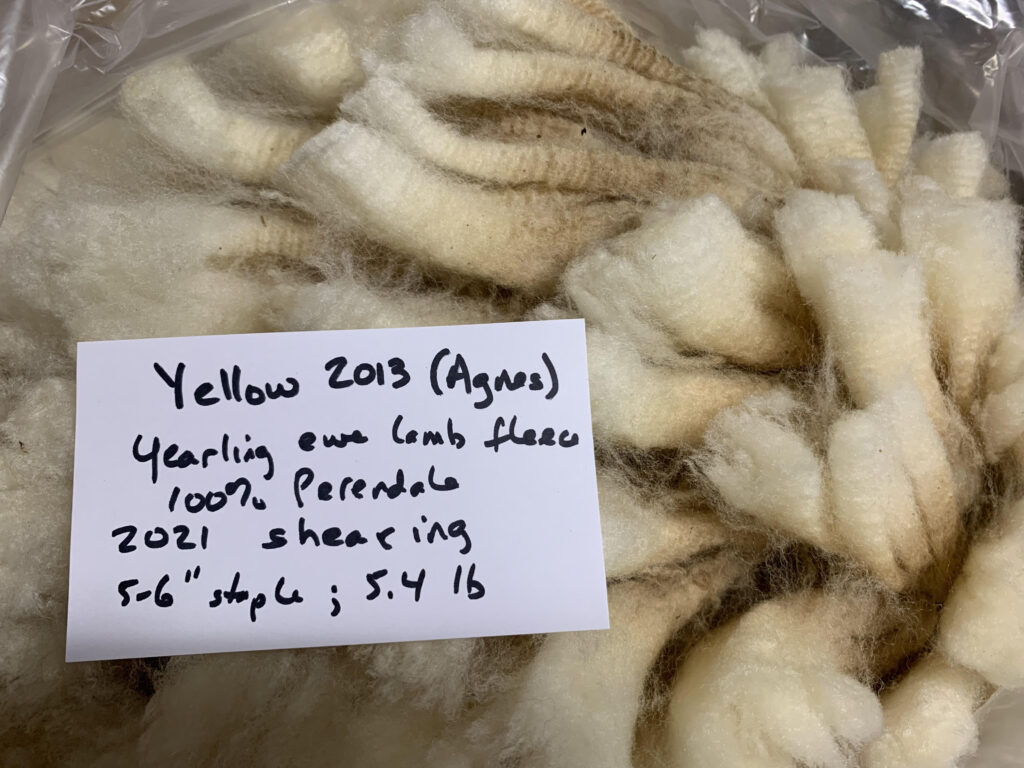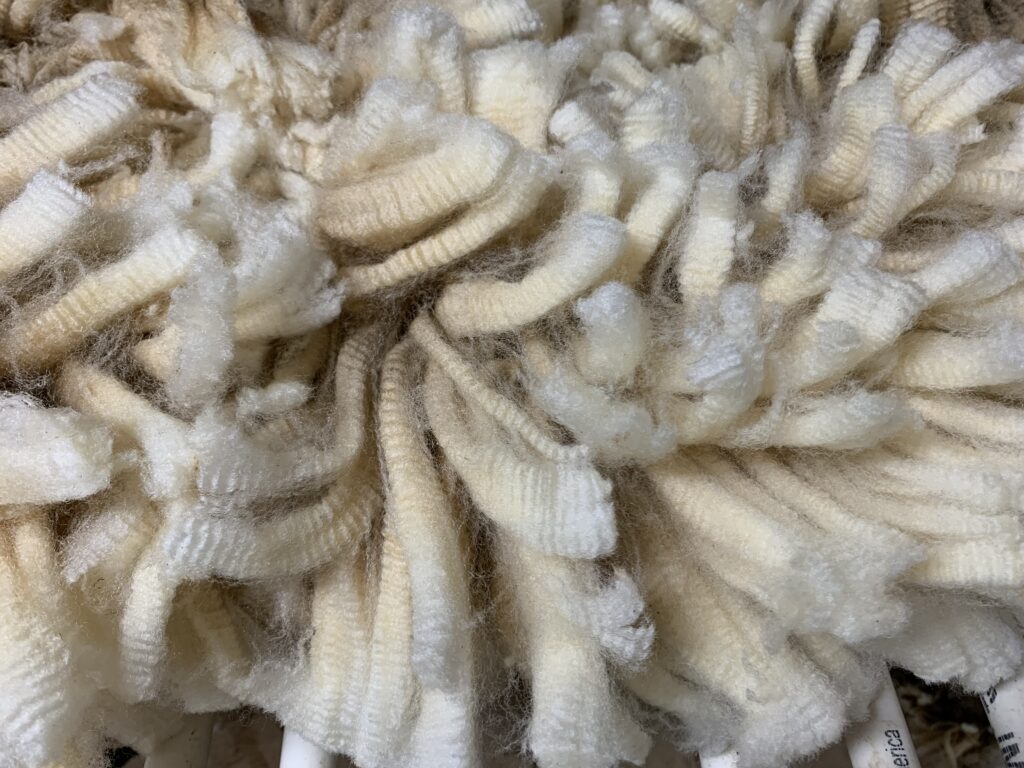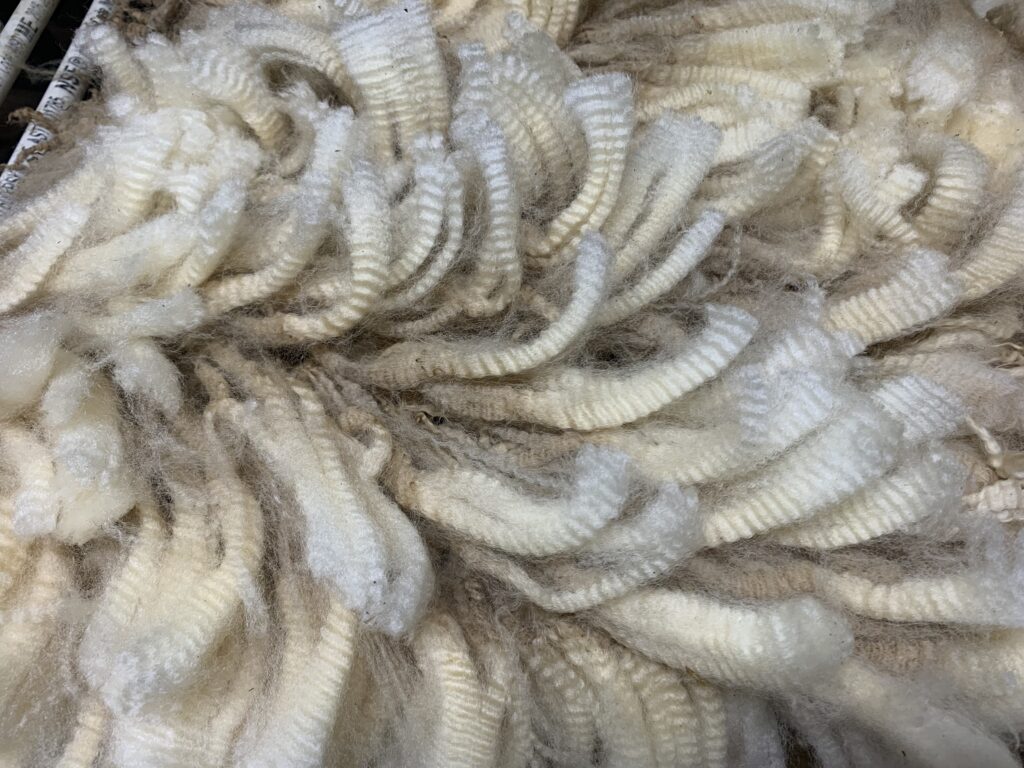 NC lamb fleeces shown below are listed in order of lightest to darkest. Note that it's very difficult to accurately capture the true color of dark fleeces using a camera. We have tried to adjust the exposure in some cases to more accurately reflect the true appearance of each NC fleece.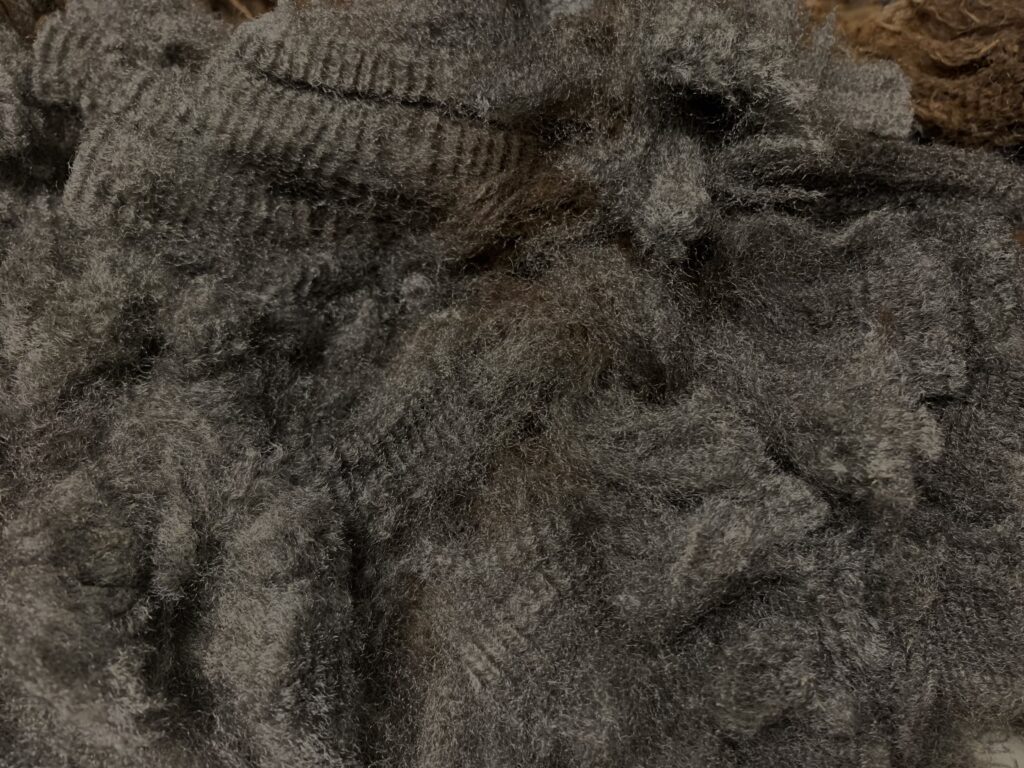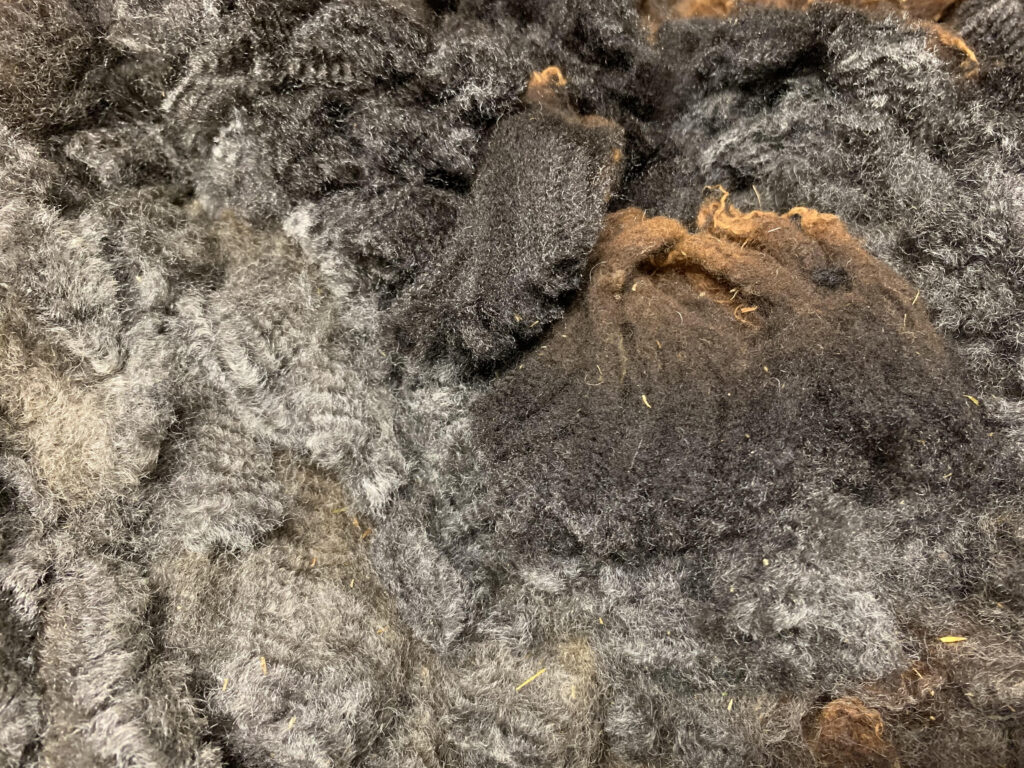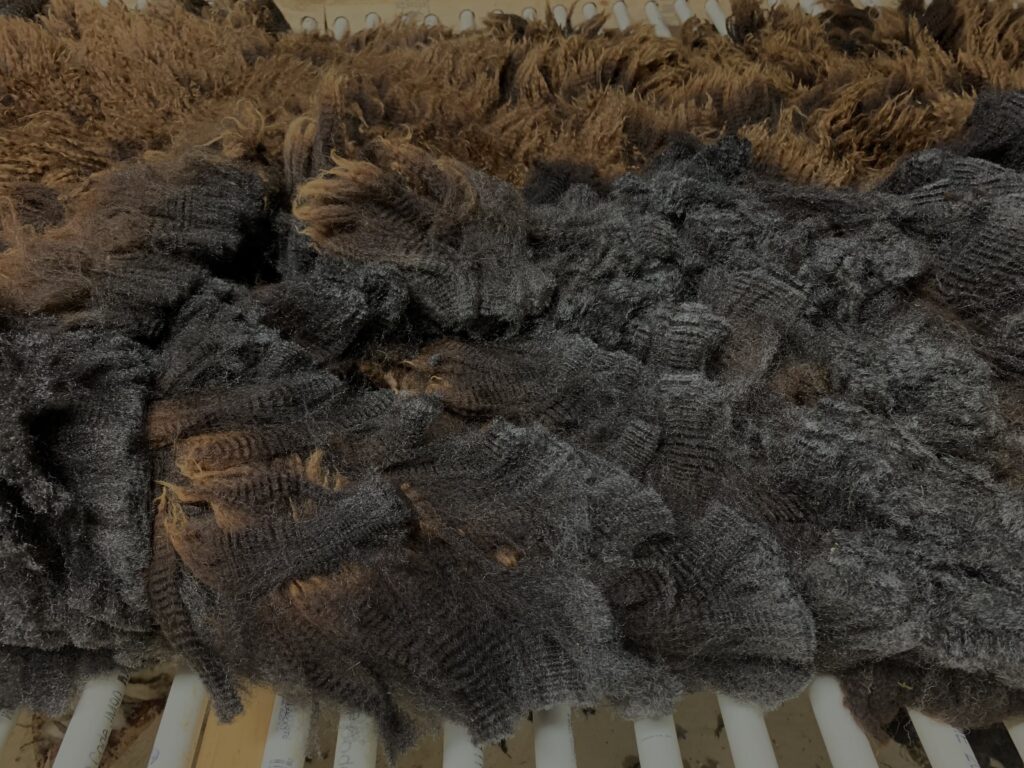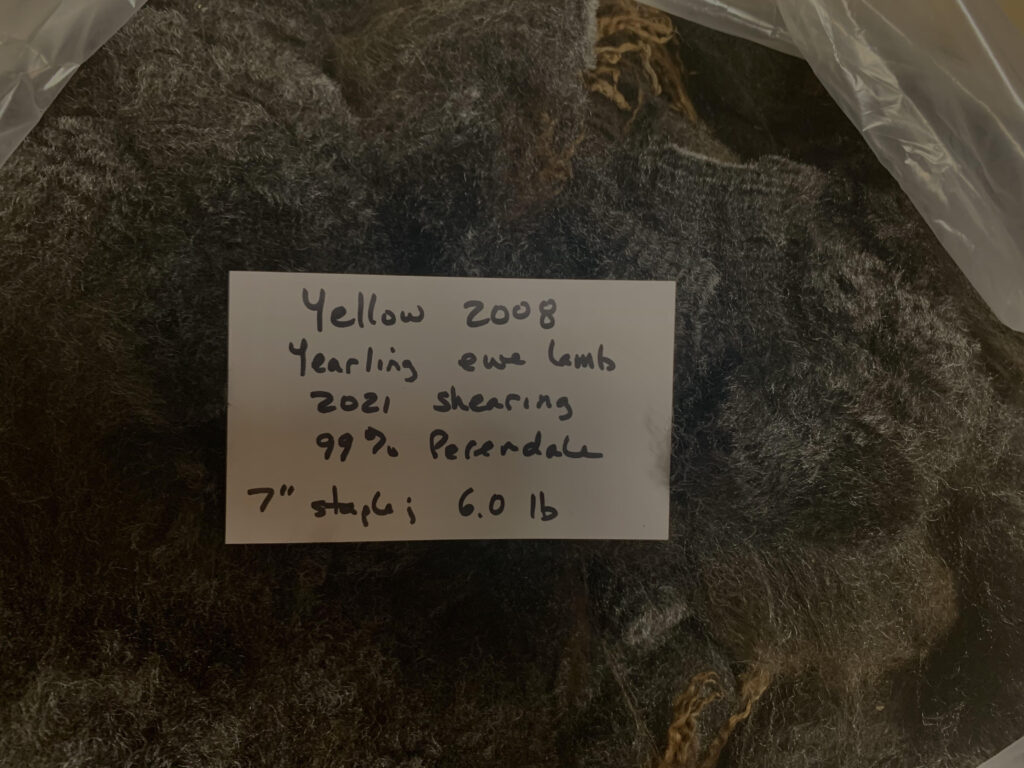 How To Buy Lucky Lane Farm Fleeces:
Identify a fleece that you would like to purchase that has not been designated as "sold".
Contact us with your address (including zip code) so that we can estimate the shipping cost (unless you indicate you'd prefer to pick up from our farm. We are located in northern Baltimore County, minutes off I-83, about half an hour north of Baltimore. Be sure to budget time to watch this spring's lambs frolicking in their pasture). We ship USPS Priority Mail via PirateShip.com, which is typically substantially less expensive than standard USPS rates for all but large flat-rate boxes. PirateShip will also provide $100 in insurance at no additional cost to you.
We will respond as soon as possible with the shipping cost. Please respond (providing your email address if you have contacted us via FB Messenger) indicating your willingness to proceed. We reserve the right to sell a fleece to someone else if we don't hear back from you promptly; please understand that we cannot "hold" fleeces.
We will send you an invoice via PayPal that will include shipping charges. Please pay your invoice within 24 hours of receipt; otherwise, we will consider that you have changed your mind about your purchase and will make it available to the next person who expressed interest. If you wish to make a donation to the Maryland Sheep Breeder's Association (MSBA), please include it as a "tip" on your invoice; we will ensure that all such tips (in addition to 10% of the purchase price) is donated to the MSBA.
Once PayPal notifies us that payment has been received, we will update our website to indicate that the fleece has been sold. We will also arrange to have the fleece collected on the first possible business day for mailing by the USPS. PirateShip will email you with a tracking number.
Shipping costs will depend on size and weight of package and distance shipped; we know how to get size down to the maximum extent possible. Most of our fleeces ship for ~ $10-20 within the eastern United States via USPS Priority Mail. Fleeces will be placed in clear plastic bags, with air removed using a shop vacuum and compression. The bag of compressed fleece will then be packed tightly in a clean poly feed bag for mailing via USPS (cheapest method available, typically Priority Mail). We find this approach yields lower shipping costs than other approaches (such as large flat-rate USPS boxes, UPS or FedEx).
If for any reason you are dissatisfied with the fleece, we will refund 90% of your purchase price if the fleece is returned to us within 30 days of purchase. The remaining 10% will not be refunded, as it will have already been donated to the Maryland Sheep Breeder's Association.