Our philosophy: This is not a family farm, held for many generations. Rather, it's the realization of a long-cherished dream. As a PhD environmental scientist, who taught Environmental Chemistry in the engineering school of a major university in Maryland for 26 years, I was all too intimately aware of the damages that common agricultural practices were inflicting on the environment as well as on human health. At Lucky Lane Farm, we strive to raise animals humanely and sustainably.
Our lambs are 100% grassfed, and (apart from the first few days of life, when they remain sheltered in a barn bonding with their mothers), they spend each day grazing in our pastures. Rotational grazing increases our yield of forage while reducing their exposure to parasites. Most supplemental hay our sheep receive comes from our own hayfield. They are NOT fed grain, and may, therefore, be smaller and leaner than the feedlot lambs you may be accustomed to from the supermarket.
Our chickens are allowed free access to our pastures during the day, and eat grass, discards from our (organically-raised) vegetable garden, our own leftovers, and bugs, in addition to chicken feed.
We compost our animal manure for use on our (and friends') vegetable gardens, and we strictly adhere to the results of soil tests and our Nutrient Management Plan in deciding when and how much to fertilize our pastures and hayfield.
We cherish our farm as a location that celebrates the beauty of Nature, and we invite you and your family to come visit, meet our livestock, gather some eggs, pick some flowers or vegetables from our gardens or fruit from our orchard – and to develop an understanding of how food was meant to be produced!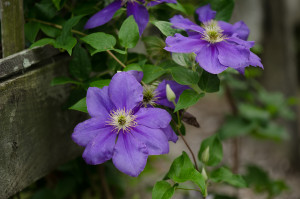 Clematis growing in our garden – one of our few non-native flowers
More information about our farm, and our approach, is available here.
Information about our sheep can be accessed here.
Information about our chickens can be found here.